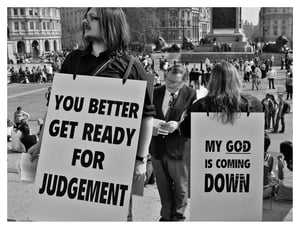 £

100.00
10" x 8" digital photographic print
Unlimited edition
This work was originally produced for "Harry Smith Anthology Remixed" a touring exhibition of artworks inspired by the legendary Harry Smith Anthology of American Folk Music. Iain Forsyth & Jane Pollard selected the track Judgement by Sister Mary Nelson. This is how they described the project:
"Judgement is a haunting track that seems to truly embody the spirit of the Anthology. We wanted to step inside it, to understand it, and to echo its conspiratorial sense of endeavour and purpose. It's unquestionably a call to action - so we took to the streets, to Trafalgar Square, and set about spreading the word of the song. This is our cover version."
This is an unlimited edition supplied unframed and unmounted. The print is not signed or numbered by the artists.