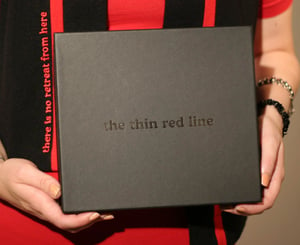 £

250.00
Embroidered woolen scarf
Edition of 25
Based on the traditional Oxbridge academic scarf, 'The thin red line' is for those who stand their ground, a sartorial symbol of defiance. The scarf embodies the form of a thin red line, and the embroidered motto refers to the origins of the title. The phrase 'the thin red line' derives from the Crimean War, when during the Battle of Balaclava on 25th October 1854 the heavily depleted British Army's 93rd regiment faced a Russian cavalry charge with a line of men only two deep instead of the conventional four. The soldiers were led by Sir Colin Campbell, who is said to have told his men 'There is no retreat from here, men. You must die where you stand'.
Forsyth and Pollard's interest in coded communication and secret societies first emerged as part of their 'Silent Sound' project produced with J. Spaceman for A Foundation during the 2006 Liverpool Biennial.
This limited edition is available exclusively from 176/Zabludowicz Collection. Please order directly.
Order directly from:
www.projectspace176.com/shop/editions